12 – th Marketing Conference 25 March 2023 G.
"A health system focused on health, not on the disease. Measures of Patient Progress toward Wellness'
Dear colleagues,
We are pleased to inform you, that the company "Sting" AD will once again organize a spring marketing conference for the twelfth time. This tradition will be resumed, because over the years the event has been recognized as one of the largest in the sector and as useful, both for our customers – pharmacies, as well as for our partners from pharmaceutical companies.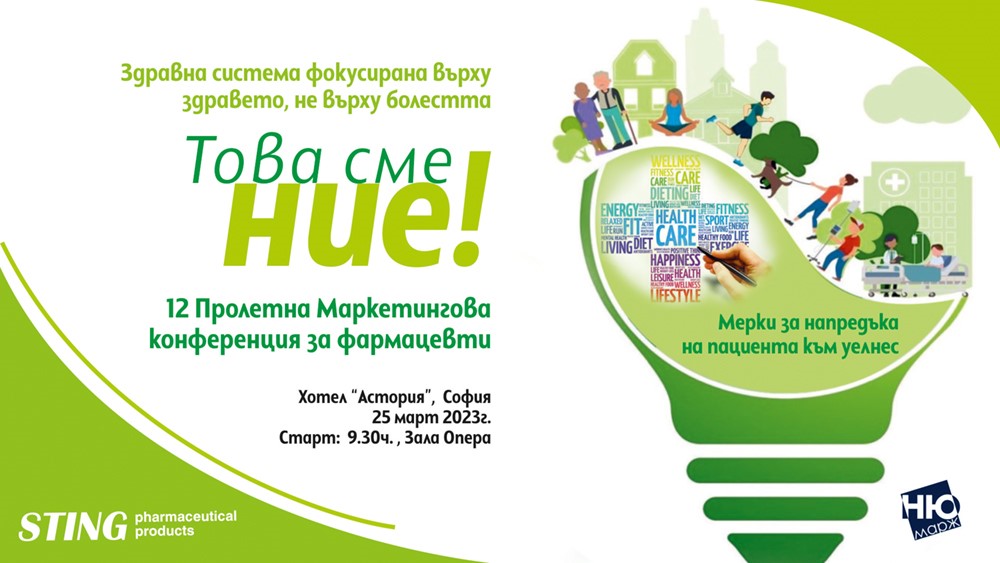 Its important role in public health care also influenced the decision to revive this initiative.
Regarding the main topic of the conference on 2023 year we united around the idea of ​​upgrading the presentation for a healthy lifestyle and the pharmacy as a collection center for this. 2023 is the first year after pandemic and covid, in which we can analyze the consequences and invite patients to prevention and wellness. We believe, that branding by pharma companies will support this idea of ​​ours. A surprise for the profile of the conference will also be the analysis from an up-to-date sociological sample of consumer attitudes, about pharmaceutical care, business operations and their expectations of pharmacists in pharmacies. This is being organized for the first time and will provide feedback on the activity and role of the pharmacist in purchasing decisions.
We remind, that the event is strictly specialized and profiled - aimed only at health professionals - pharmacists. The dynamically changing environment requires them to be trained and prepared to respond to these challenges.
Invitations have been sent to 700 pharmacy colleagues, leading in the regions across the country. They will have the opportunity to familiarize themselves with the new offers of manufacturers and importers. Marketing tools for successful sales will be discussed and discussed, as well as effective methods of patient consultation. Presentations will be given in compliance with distance requirements, and the stands will be located at a distance from each other. For the first time, the lectures will be streamed on screens in the hotel lobby, с възможност за проследяване на живо от хотелските стаи, as well as on Sting's website, for free.
Location: conference hall "Opera", Astoria Hotel, Sofia
Date: 25.03.2023 G. Home: 9.00 h. End: 18.00 h.
You can download the program of the event from here